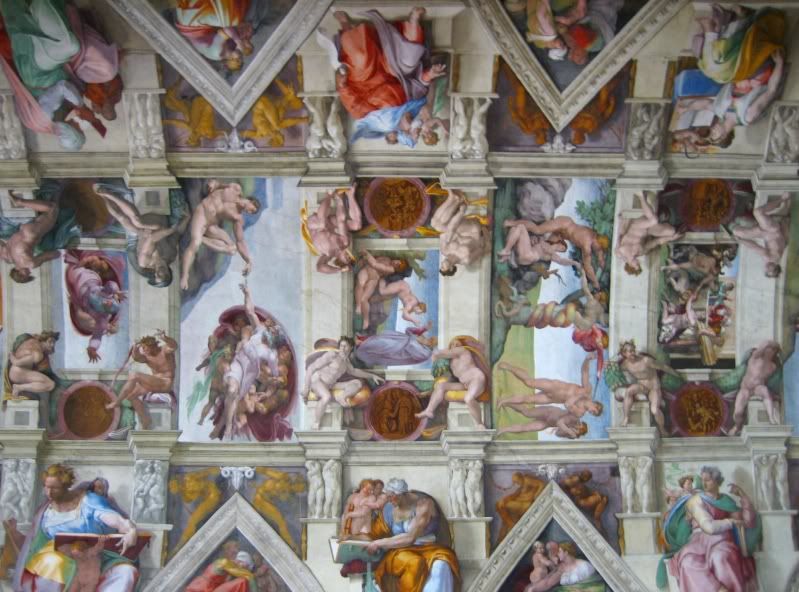 Inspiration is everywhere. Whether it be a street car, a tree, a photo of a beautiful room or an abstract painting, Design ideas can spring from the most obvious to the most obscure sources. We get color, vibe, texture, shape, and pattern cues  from history, and the natural and man-made world around us. A great Interior Designer will be able to assimilate inspiration photos and objects into something completely original and fresh. These images can also offer design validation when I become concerned about an untried design combination, such as a color scheme.
    People think a lot about their four walls, but they sometimes forget about what brings them all together, the CEILING! From the Sistine Chapel to the wide open sky, the world above offers many possibilities.  Sometimes a problem ceiling can create the seeds of inspiration for a solution far more interesting than if there had not been a "problem area".
  Jonamor Decor wants to share with you  a gallery of some of our more "inspired" ceilings and some of the images and concepts that started the wheels of the design mind turning.
 RODDY BOTTUM'S WHIMSICAL AND ELEGANT DINING ROOM CEILING

Roddy had a dining room that was long and narrow like a railway car. Formerly painted  dark green and crowded with large furniture, it was a far cry from the light and airy space we wanted to create. My initial inspiration was to create the feeling of a Conservatory such as the one pictured above to the right. I wanted to use lattice in a creative way and sought inspiration from two design icons, Tony Duquette and Elsie De Wolfe, who had a flair for creating over the top and sophisticated garden rooms and were no strangers to the wonders of lattice themselves. We chose a fleur-de lis lattice for the custom screen panels and in between the beams for a fresh take and because it is a stylized representation of something from nature.
 JANE WEIDLIN'S FUTURISTIC SPA BATHROOM CEILING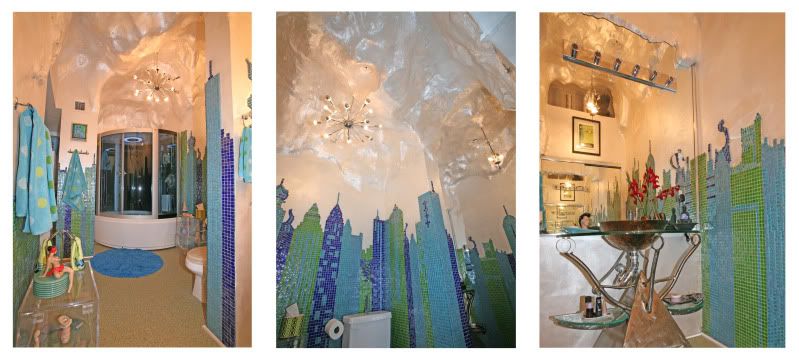 INSPIRATION:
Jane wanted a space age spa bathroom that represented organic interpretations of vintage futurism. We decided to create a drop ceiling in the tall space that would become an undulating iridescent, white cave. In the 60′s and 70′s, cave rooms and adobe structures became mod and chic with bright colors and lots of white plaster and paint. Designer and Stylist Barbara D'Arcy popularized the style at that time in displays (above left) in the Bloomingdales show room. I was also inspired by the gorgeous and disturbing work of Miguel Barcelo represented (above center) on this wall inside of  the Le Seu Cathedral in Mallorca, Spain. Lastly, what groovy, space age bathroom would be complete without a transporter that doubles as a spa shower and bath?
TOMAS COSTANZA'S  MAGNIFICENTLY MOD LIVING ROOM

INSPIRATION: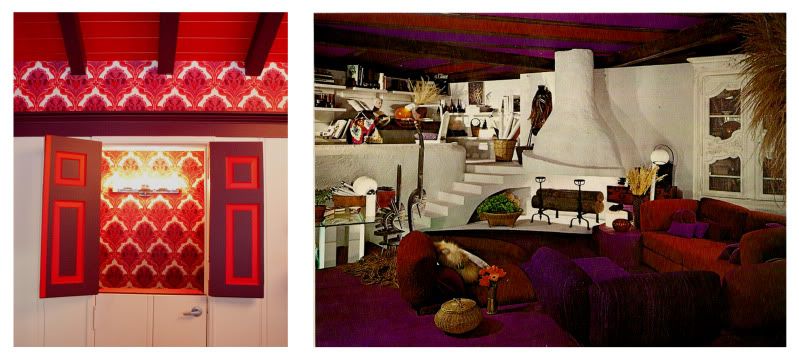 Tomas had a dark wood paneled living room with a rustic and beamed pitched ceiling. We wanted to bring a little California Modern love to a room that had,  for most of it's life, looked much like the bowels of an old ship.  Our color inspiration came from a fantastic vintage wallpaper from Belgium pictured above left. ( http://www.funkywalls.be/).  I loved the hot look of purple and red together, but I would need to balance it out with heavy doses of white to keep this room as light and bright as possible. Validation for this scheme came again from the genius design portfolio of Barbara D'Arcy who is responsible for the fantastic interior to the right.  I had all the casework painted dark purple in order to ground the colors. I contrasted with the cherry red for drama. I used the same scheme for the furniture which keeps the ceiling from having a "floating feeling".
RODDY BOTTUM'S  EARTH  RETRO NATURE-INSPIRED MUSIC STUDIO CEILING
 INSPIRATION:
Roddy wanted an Earth Mother 70′s vibe in his small, formerly nondescript Music Studio.  We wanted it to feel like a tree house and bring in the textures associated with bark and branches. The tiger bamboo floor and the cork ceiling were chosen because they looked like different kinds of tree bark. We wrapped the plain columns in white branches which splay out onto the ceiling. Eventually, the vines will wind through the branches to create a natural flourish.
TOMAS COSTANZA'S EXOTIC  TENTED GUEST ROOM CEILING

INSPIRATION:
Tomas wanted this guest apartment to feel like an exotic getaway and to have a fun and funky flair. The room was a large, cavernous space with a very irregular and unattractive ceiling . A tented ceiling can disguise imperfections and make a large and tall room seam more cozy and grand. My client wanted the look of the overall look to be Moorish (like the restaurant, The Sultan's Tent,  pictured right). We also wanted a little bit of military tent influence by the use of crisp, masculine edges. I love the opulence of Alexander the Great's military tent. ( Pictured left) Whatever styles inspire you, a tented room will always create an overhead sensation!